Tom Lippolis says it's a completely laughable allegation that JWoww from Jersey Shore did not know he was photographing her buck a$$ naked.
Her attorney suggested this shady behavior, even implying that JWoww (real name Jenni Farley) was under anesthesia when he took the pics.
Team Farley recently filed a court motion negging Tom from releasing JWoww nude photos. Her lawyer, Rudy Fusco, said she denied consenting.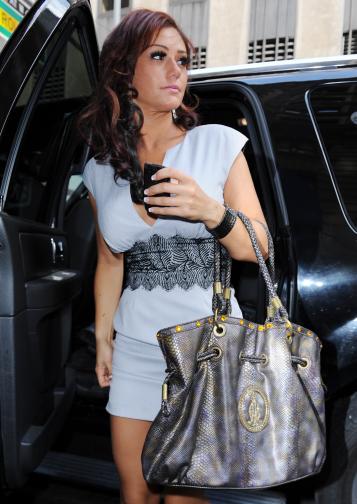 Is JWoww the victim, or hanging Tom out to dry?
"Jenni says she must have been under anesthesia when they were taken," said Fusco, a comment Lippolis denies and says is preposterous.
"What a joke! How are you under anesthesia when you are standing up posing for the pictures?" Lippolis said. "[Jenni's] looking right at me."
He's got a point. That'll knock a girl out. Almost as ridiculous an excuse as the one given for the gun sights on Sarah Palin's crosshairs map.
He continues, "They had not given her anesthesia when I took the pictures, she was actually standing up with her hands placed on her hips."
According to Lippolis, the nude photos he took were actually JWoww's idea, to compare how she looked both pre- and post-plastic surgery.
Tom said he took the pics an hour before: "She told me, 'Take two pictures, one from the front and one from behind then take them after."
Lippolis' lawyer believes that, in turn, the MTV star does not have any right to block his client from doing what he wants with the photos.
Lippolis, who was seen briefly on the Jersey Shore Season 3 premiere, is also suing for fees he says are owed to him for managing her.